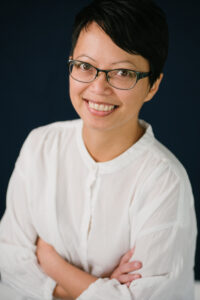 Ivy Alvarez is the author of verse novel Disturbance (Wales: Seren, 2013).
Her latest poetry collection, Diaspora: Volume L, is available from Paloma Press.
She is a MacDowell Colony Fellow, a Hawthornden Fellow, and a five-time Pushcart Prize nominee for poetry and fiction, with both Literature Wales and the Australia Council for the Arts awarding her grants towards the writing of Disturbance.
Widely-published and anthologised, her poetry also appears in World Literature Today, Takahē, The Age / Sydney Morning Herald, and Best Australian Poems (2009, 2013), with several poems translated into Russian, Spanish, Japanese, Korean, and Filipino.
Her poetry collections include Mortal, Hollywood Starlet and The Everyday English Dictionary.
Achievements
Adapted from Ivy Alvarez's work, Disturbance the musical premiered July 2019 in Tokyo, Japan.
Alvarez also featured at the 2015 Auckland Writers Festival in New Zealand, as well as the Queensland Poetry Festival, Brisbane Writers Festival and the Tasmanian Poetry Festival in Australia that same year.
Previous festival appearances include the Oxford Literary Festival and the Seoul International Writers Festival.
Her editing experience includes work for literary and commercial publications in Australia, the US and Hong Kong. She is a former editor for the New Zealand Poetry Society's magazine, a fine line, and a former co-editor for Verity La.'s Discoursing Diaspora. She also edited the first Aotearoa New Zealand edition of Atlanta Review (USA, 2017).
In 2019, the Australia Council for the Arts awarded Ivy Alvarez a grant to support the writing of a fourth volume of Diaspora. In the previous year, she received a grant from Creative New Zealand, and a stipended residency from the Michael King Writers Centre, towards the writing of a second and third volume, respectively.



Personal bio
Born in the Philippines, Ivy Alvarez grew up in Tasmania, Australia. Having lived in Scotland and the Republic of Ireland, she lived almost ten years in Cardiff, Wales, before arriving in Auckland, New Zealand in 2014.
She is also an actor. In 2017, she signed up with Fourth Wall acting agency.
Save
Save
Save
Save
Save
Save
Save
Save