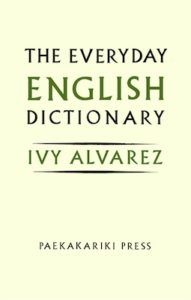 In 2008, Ivy Alvarez was at a writing residency at Fundación Valparaiso (Spain), while working on her second poetry collection, Disturbance.
Needing a dictionary for reference, she searched the residence's library, and discovered the original Everyday English Dictionary.
Finding much of the unusual, archaic words it contained both amusing and diverting, she decided to write some of her own definitions, as poems.
Work from The Everyday English Dictionary has appeared in numerous journals, including Poetry Review (UK), Corduroy Mtn. (USA), Australian Poetry Journal and Landfall (NZ).
This book is a handmade, letterpress-printed, limited edition of 250 copies, with original art by Kim Vousden. Published by Paekakariki Press, it launched in London on Blooms Day, 2016.
Read X, a poem from The Everyday English Dictionary.
Buy your signed copy here.
Save