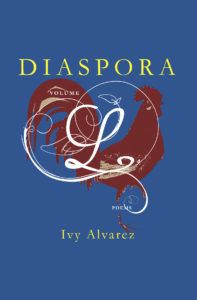 Ivy Alvarez's latest collection is Diaspora: Volume L, published by Paloma Press (California, 2019).
This book forms part of a multivolume work of 19 letters based on the Filipino alphabet.
Alvarez reclaims and engages with past and current Tagalog idioms and redefines them using poetry. Innovative in scope and approach, the collection cycles through the free verse poem, visual poem, and prose poem forms.
Advance words for Diaspora: Vol L
Diaspora: Volume L wanders beyond the bounds and parallels of what we imagine translation can do. Ivy Alvarez revels in new forms and fictions, disquiet and desire. And she affirms that our words and wants are far from static, that we are "some foreign matter // a movement / from one state / to another." I am reminded of Fernando Pessoa's musing that "nothing is, everything coexists" in reading these poems: how Alvarez illuminates that promise, writing with "the door / opening and closing," inventing her own lyric vernacular, its meanings in-flux and brilliant.
—R.A. Villanueva, author of Reliquaria
Read Langit ng buhay, a poem from Diaspora: Vol L.
Buy your signed copy here.