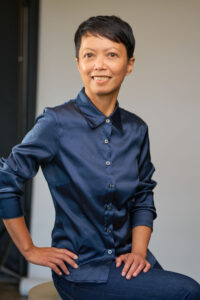 Ivy Alvarez's acting appearances include feature film Footsteps (UK), short films Lolo and A Moray, Kiwi TV show Head High, and Stop Kiss, her first theatre role in New Zealand. Represented by Fourth Wall Agency.
Latest Acting News
The Pandemic Effect on Stop Kiss

Stop Kiss opened on Wednesday, 23 February 2022 to a very warm buzz in the air, and an appreciative audience. Backstage, the talk was of community case numbers rising, of household members isolating, and it felt like we were on borrowed time. Thursday night (24 February) beheld a more intimate audience, but no less enthused and appreciative of the story we were telling.

That was our final night: we had to shutter the show when first one then, over the coming days, a second and third person from our company caught "the spicy cough".

But hey, we performed for two beautiful nights 💕 And I hadn't realised how much I'd missed the camaraderie, that sweetly ephemeral life, until I returned to it.

I'm so thankful to have been part of a talented, supportive, and good-natured gang who, even now, are still checking in on each other's wellbeing. @emberscollective

And while this was going on during the evenings, my early mornings (Wednesday and Thursday) were taken over with acting for my very first TV commercial.

There, too, I was fortunate enough to experience a very professional set for my first one. It was super fun, a lovely time, low-stress, and of course, I got to act. The stars were smiling down on me last week. How lucky am I!