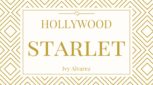 Ivy Alvarez's Hollywood Starlet is poet Collin Kelley's 2017 fave read:
Vivien Leigh, Greta Garbo, Marilyn Monroe and Ingrid Bergman are just some of the acting legends given a fresh voice by Alvarez, who peels away the studio-manufactured façades to explore their inner thoughts and troubled lives. It's a chapbook I return to again and again.
Read the rest of this crowd-sourced compendium of 2017 fave poetry reads at Dave Bonta's Via Negativa, which includes Alvarez's review of Bethany W. Pope's Silage.